AutoConnect
Ears' AutoConnect feature lets you mark a Bluetooth device as a favorite. Then, if it's turned on and within range, there's no need to connect manually with your Mac and switch to it. Just pick a keyboard shortcut for AutoConnect, press it, and your Mac will begin searching for your device. Once found, it will connect, and Ears will switch your audio to it.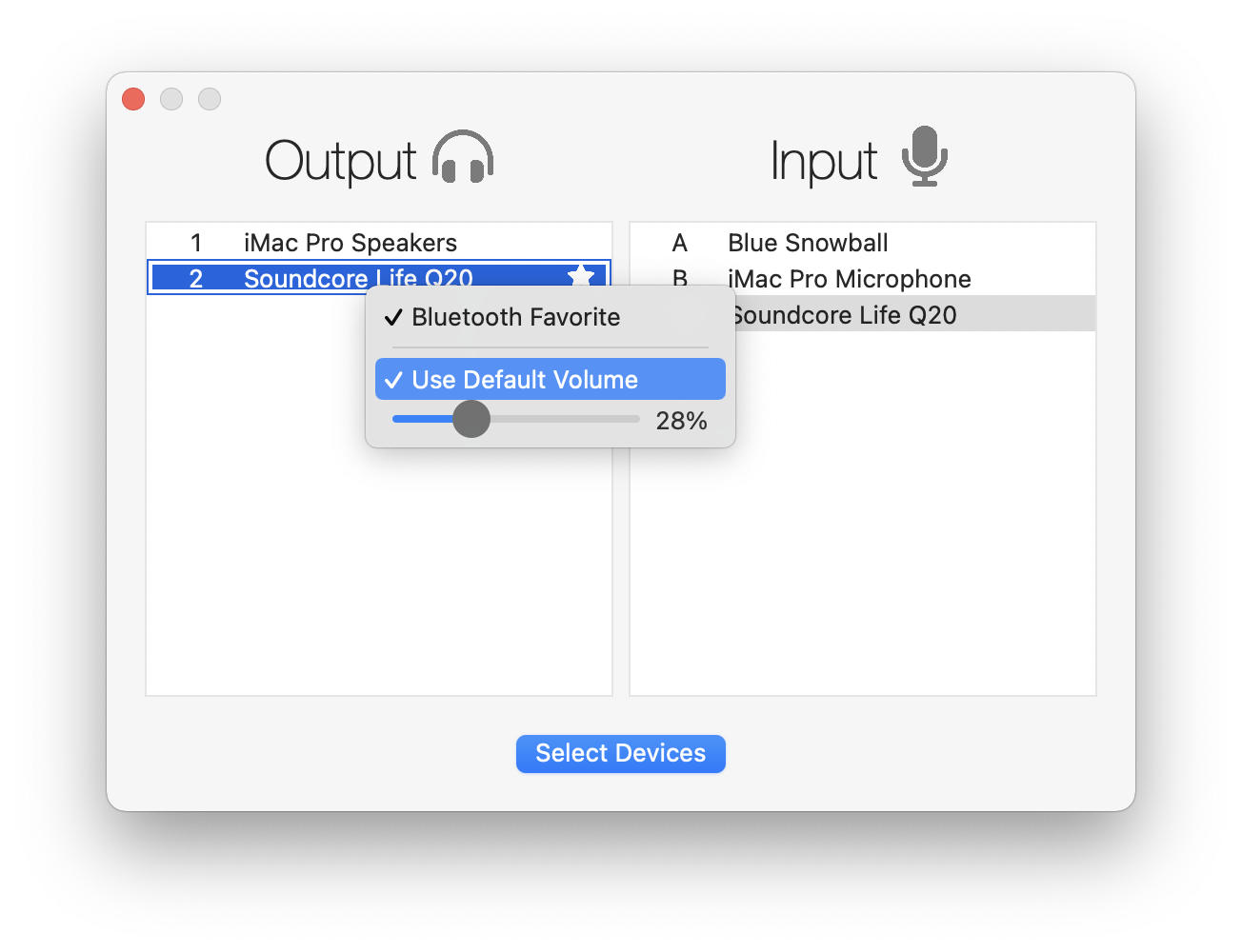 Notifications
In the Ears Preferences Window, you can enable notifications when your audio devices change. This works when you change them with Ears or in any other app or System Preferences. You'll see a native macOS notification letting you know your settings have changed. It's a great way to confirm what you think happened really did happen and prevent surprises.
Also, you can also choose to have your Mac speak your new audio device selections to you just for fun. I've added a slight delay between when your device changes and when the audio speaks. This delay gives your new device a quick moment to fully come online. So, in the case of switching to a different speaker or headphones, you'll hear the change announcement with your new choice to confirm it's active.
Default Volumes
Ever notice how macOS will change the volume when you switch audio devices? Do your iMac speakers need to always be quiet but don't mind blasting your AirPods?
You can choose a default volume for any of your "Output" or "Input" devices. When you switch to them in Ears, the app will automatically set them to your preferred volume (output or input).
Default Volumes are opt-in. If you don't use this feature with a device, your volume will remain what it previously was or whatever macOS decides to pick for you.
InstaMute
I built this setting because I'm on so many virtual meetings for work, and I was sick of trying to remember the specific mute/unmute shortcut key for every meeting app. Zoom, RingCentral, Slack, Microsoft Teams, Google Meet - they all have different shortcuts.
InstaMute gives you a global hotkey to toggle your microphone at any time - from any app - even if the meeting app isn't focused.
When InstaMute is turned on, Ears' menu bar icon will have a slash through it when your microphone is muted.

InstaMute has three modes of operation:
Toggle On / Off When you press the InstaMute hotkey, mute will toggle on and then off. Just like flipping a light switch.
Push to Talk Ears will keep your microphone muted except when you are holding down the hotkey. Press your hotkey and hold it down to talk. When you let go, Ears mutes your microphone again.
Push to Mute This is the opposite of Push to Talk. Think of it as your cough button. Your microphone will be enabled except when you are holding down the hotkey. When you press and hold down, you'll be muted and free to cough, sneeze, or not worry about holding in laughter at whatever dumb thing the sales guy just said. But let go, and everyone will be able to hear you again.